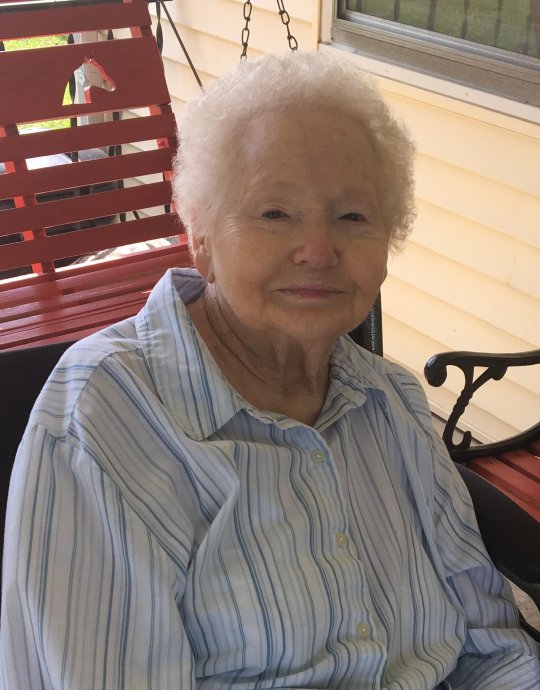 Laura Sharon Hargis
Sunday, November 20, 2017 – 11:00 A.M.
Laura Sharon Hargis, age 80, of Somerset, Kentucky passed away Thursday, November 16, 2017 at Lake Cumberland Regional Hospital following a short illness.
She was born in Somerset, Kentucky on September 1, 1937, daughter of the late Maudie Lee Girdler Childers and Sidney Ray Childers. She grew up in the Ringgold Community of Pulaski County. She married the late Robert Hargis in Somerset, in 1952. They spent over 64 years together and raised a family. Often times, it was paycheck to paycheck, but we always had plenty of everything. The two of them were the greatest parents anyone could hope for.
Laura was the sweetest and kindest lady who you would ever meet. She always had a smile on her face and very seldom complained about anything. She was a hard worker. She delivered papers for the Commonwealth Journal for more than thirty years. She retired as a cook from Oak Hill Elementary. She assisted her husband with farm work for many years. When mom was able, she worked daylight until dark. She would be scrubbing the basement, washing off the porch, or trimming the lawn. She enjoyed work and never complained about it. She enjoyed her life and spending time with her children and grandchildren. She loved birthdays and holidays.
Laura was so generous to all those around her. She greatly loved all of her family. She was a member of Ringgold United Methodist Church where she faithfully attended until her health no longer permitted her. She will be missed dearly by all of her family and friends.
She is survived by her daughter; Sharon Murphy of Somerset, son; Mark & (Debra) Hargis of Monticello, Kentucky, one granddaughter; Ashley Murphy (Chris Shepherd), two grandsons; Adam Murphy, and Aaron Murphy all of Somerset, and one great granddaughter; Ivory Shepherd of Somerset, brothers; Virgil (Chestena) Childers and Lonzie (Priscilla) Childers all of Somerset, Sisters; Marie Girdle of Somerset and Elizabeth (Robert) Christian of Knoxville, Tennessee and numerous nieces, nephews, cousins, and other relatives and friends.
She was preceded in death by her parents, husband; Robert Hargis, daughter; Jeanetta Sue Hargis, brothers; Albert, Leonard, Eugene, Louie, Finis Lee, Luther Coy and her sisters; Thelma Faye and Lucille.
Visitation will be from 4:00 p.m. until 8:00 p.m. on Sunday, November 19, 2017 in the Chapel of Southern Oaks Funeral Home. Funeral Services will be at 11:00 a.m. on Monday, November 20, 2017 in the Funeral Home Chapel. Interment will be in the Mill Springs National Cemetery in Nancy, Kentucky.
Southern Oaks Funeral Home is entrusted with the arrangements for Mrs. Laura Sharon Hargis.