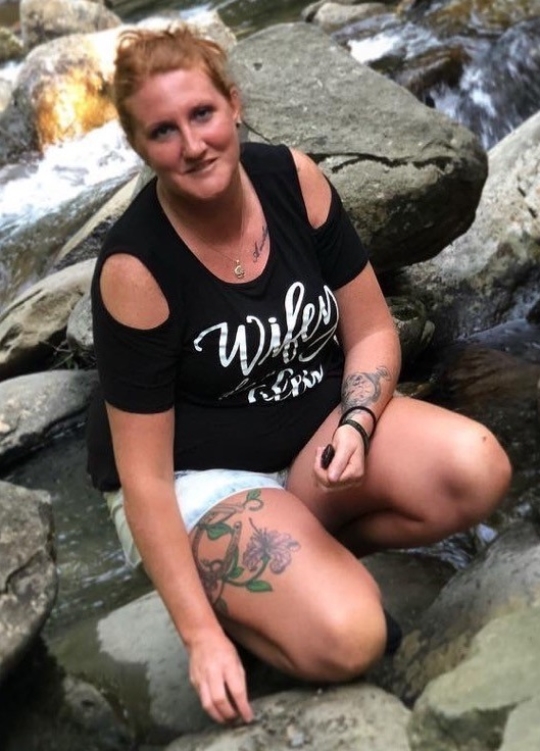 Ashley Renee Weatherford Calhoun
Thursday, December 12, 2019 – 11:00 A.M.
Ashley Renee Weatherford Calhoun age 34, of Somerset, Kentucky passed on Sunday December 8, 2019. She was born on March 19, 1985 to Katrena Weatherford in Somerset. She enjoyed going to the beach, animals, and the outdoors especially hunting and fishing. Ashley was a Pulaski County High School Class of '04 Graduate, she continued her education at Lindsey Wilson College where she attained her Bachelors Degree.
Ashley is preceded in death by her Grandpa, George "Butch" Weatherford; cousin, Kyle Weatherford; and a brother in law, Josie Calhoun.
She leaves behind to cherish her memory, husband, Micky Calhoun; mother, Katrena Weatherford; honorary father, Wesley Gullett; three daughters, Alexis Chaney, Lily May Calhoun and Krista Calhoun Rains all of Somerset; brother, Shawn (Tiffany) Whitis of Somerset; grandmother, Betty (Claude) Meece; honorary sons, Justin Beach and Joseph Miller; honorary daughter, Hannah Thomas; honorary brother, Brayden Gullet of Nancy; honorary sister, Harley Smith; mother and father in law, Robert (Donna) Calhoun; nephew, Brett Whitis; uncles, Bobby Whitis, Jackie (Melinda) Weatherford and Ricky (Shirley) Weatherford; cousins, Allen (Jennifer) Price, Chris (Jessica) Price, Nathan Whitis, Sumer (Holli) Weatherford, Devin (Samantha) Weatherford, and Kody Weatherford. Along with a host of other friends and family who will miss her dearly.
Visitation for Mrs. Ashley Calhoun will be Wednesday, December 11, 2019 at 5 P.M. in the Chapel of Southern Oaks Funeral Home. Funeral Services will be Thursday, December 12, 2019 at 11 A.M. in the Chapel of Southern Oaks Funeral Home with Bro. Brian Sawyers and Bro. Freddie Stephens officiating. Pallbearers will be Micky Calhoun, Shawn Whitis, Toby Troxell, Devin Weatherford, and Bobby Whitis. Interment will be at Piney Grove United Baptist Church #1 Cemetery.
In lieu of flowers expressions of sympathy may be made to the Ashley Calhoun Memorial Fund C/O Southern Oaks Funeral Home.
Southern Oaks Funeral Home entrusted with the arrangements for Mrs. Ashley Renee Calhoun.