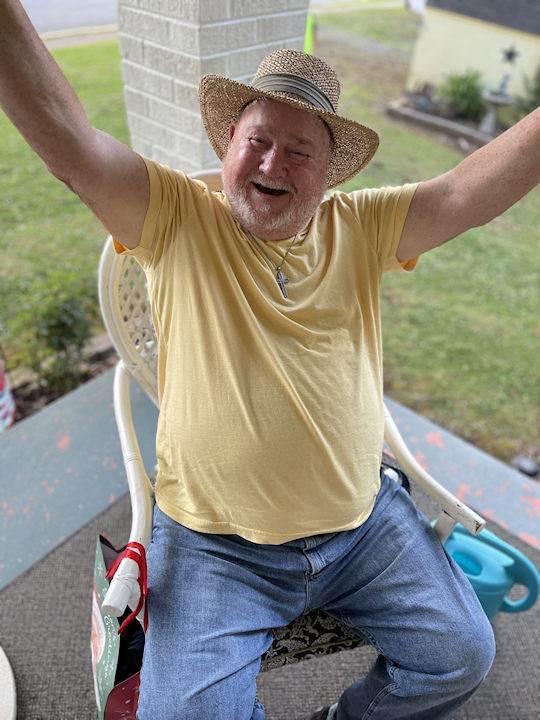 Bro. Coy Frank Ridner
Friday, September 1, 2023 at 1:00 P.M.
Bro. Coy Frank Ridner, age 77 of Somerset, Kentucky was called to his heavenly home on Wednesday, August 23, 2023 at his residence surrounded by his loved ones. He was also known as "The Old Man from the Mountain".
Coy was born on July 9, 1946 in Pulaski Co. KY to the late Thomas Ridner and Bertie Meece Ridner.
He worked as a logger to support his family. Coy was a Baptist Preacher and when he was able, he enjoyed sharing the word of God. As a young boy he received a guitar and then taught himself how to play. His love for music was easily seen as he played and sang for his friends, family, and random strangers for many years. Wildwood Flower was one of his favorite songs that he will always be remembered for. Coy also loved hunting and sitting on a creek bank fishing when he was able to.
Coy was preceded in death by his parents, his son, Coy Scott Ridner, his daughter, Amy Renee Ridner, brothers, Sonny Ridner, Ken Ridner and Denny Ridner, sisters, Sue Phelps, Marlene Pyles, Brenda Linville, Betty Harper, Linda Reed and Vickie Jones, and his best friend of many years, Bruce Cook, whom he played music with.
Coy had a great love for babies and children and no doubt he was greeted in Heaven by his 10 grandbabies that also preceded him in death. Coy no doubt is showering them with hugs, love and kisses.
He leaves behind to cherish his memory, his wife of 53 years, Patricia Ridner whom he called "Mom". He loved her very much through the good and bad times. He is also survived by his sisters, Nancy Jones, May Adkins, his brother Clint Ridner, his children, Lisa (Stephen) Wood, Lorie (Charles) Combs and Angela Taylor, grandchildren, DeRhonda Lee, Coy Thomas Ridner, Sarah Ridner, Abigail, Stephanie Shirel, Willow Wood, Anthony Decker, Alexis Pittman, Katessa Wood, Ashley Pittman, Addyson Pittman, Daniel Taylor and Angel Taylor, and a grandson that he raised, Jordan Ridner. Coy is also survived by 15 great-grandchildren.
Funeral Services will be held at 1:00 P.M. on Friday, September 1, 2023 at Southern Oaks Funeral Home with visitation beginning at 11:00 A.M. on Friday at the funeral home with Bro. Raymond Ridner and Tim Ogle officiating.
Southern Oaks Funeral Home is entrusted with the arrangements for Bro. Coy Frank Ridner.