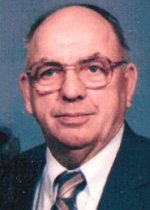 Bro. William Hatfield
Saturday, December 4th, 1999 – 11:00 A.M.
Bro. William Hatfield, 69, of Jacksboro Road, Bronston, died Wednesday, December 1st, 1999 at Lake Cumberland Regional Hospital.
He was born October 1st, 1930, a son of Riley and Nanny Mary Strunk Hatfield. He was a minister and school bus driver. He has pastored at Grave Hill Baptist Church, Mt. Lebanon Baptist Church, Old Fashion United Baptist Church in Sidney, Ohio and Rock Springs Baptist Church in McCreary County. He was a member of Mt. Lebanon Baptist Church in Nancy.
He is survived by his wife, Donna Lou Hatfield, whom he married on February 25th, 1952 in Union City, Indiana; two sons, Duane (and Nina) Hatfield of Sidney, Ohio and Bro. Darry (and Missi) Hatfield of Bronston; two brothers, Emsley Eugene Hatfield of Crossville, Tennessee and Arnold Hatfield Jr. of Walterboro, South Carolina; a sister. Mae Albertne Coffey of New Castle, Indiana and four grandchildren, Duane, Sarah Bridgett and Brooklyn Hatfield.
He was preceded in death by his parents and two brothers, Vola Patton and James McCoy Hatfield.
Funeral services were held at 11:00 a.m., Saturday, December 4th, 1999 at the Memory Chapel of Lake Cumberland Funeral Home with Brother Darry Hatfield and Brother Duane Hatfield officiating. Burial will be in the Sloans Valley Cemetery.
Visitation was held after 4:00 p.m., Friday, December 3rd, 1999 at the Lake Cumberland Funeral Home.
[metaslider id="759″]