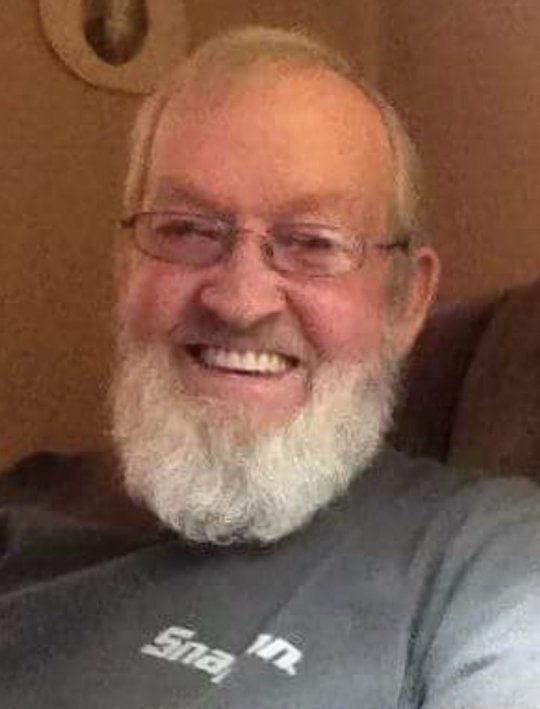 Carmon Lee Foley
Wednesday, December 6, 2017 – 2:00 P.M.
Carmon Lee Foley, age 73, of Waynesburg, Kentucky, passed from this life on Thursday, November 30, 2017 at the UK Medical Center in Lexington, Kentucky.
He was born on May 30, 1944 in the Ellison Ridge Community, Lincoln Co. Kentucky, son of the late Leroy and Maudie Salyers Foley.
Carmon attended the Pleasant View Baptist Church and was a retired truck driver. He enjoyed riding dune buggies and mostly spending time with his kids and family. He was a jack of all trades and being the kind hearted man that he was, he was always there to help with whatever needed to be done. Carmon will be sorely missed by all who knew and loved him.
He was preceded in death by his parents, his brothers; Elvin Foley, David Foley, Wayne Foley and his previous wife; Janice South Foley.
He is survived by his wife; Anita Tolley Foley, a son; Rodney (Kristie) Foley of Waynesburg, daughters; Jeannette (Stuart) Hatter of Kings Mtn., Karen (David) Snow of Hustonville, Kimberly (Jason Rogers) Foley of Stanford and April (Corey) Floyd of Kings Mtn., a step-son; Greg (Michelle Dye) Richardson of Bethelridge, a step-daughter; Ruth Ann (John) Mink of Lancaster, sisters; Mildred (Danny) Snow of Livingston, Margaret (Billy) Meeks of Auburndale, Fl., Brenda (Herbie) Martin of Eubank and Betty (Larry) Trowbridge of Somerset, grandchildren; Olivia Foley, Savannah Heffner, Zachary Hatter, Kayla Hatter, Travis Hatter, William Sims, Andrew Sims, Janis Raylynn Snow, Summer Rogers, Blake Rogers, Elijah Floyd, Daysha Floyd, Haeiley Richardson, Josh Snow, Zach Snow and Kristin Snow, great-grandchildren; Audreyanna Hatter, Zoie Hatter, Jaycee West and Mia West.
Visitation will be Tuesday, December 5, 2017 from 6:00 pm til 9:00 pm with a short service at 8:00 pm in the Chapel of Southern Oaks Funeral Home. Funeral Services will be on Wednesday, December 6, 2017 at 2:00 pm in the Chapel of Southern Oaks Funeral Home. Burial will follow in the Salyers Cemetery in Mt. Olive.
Pallbearers will be Travis Hatter, Zachary Hatter, Willie Sims, Andrew Sims, Elijah Floyd and Edwin Foley. Honorary Pallbearers will be John Mink, Greg Richardson and Dwight Foley.
In lieu of flowers the family requests that donations be made to the Carmon Lee Foley Memorial Fund, C/O Southern Oaks Funeral Home, 2110 W Hwy 914 Somerset, KY 42503.
Southern Oaks Funeral Home is entrusted with the arrangements for Mr. Carmon Lee Foley.