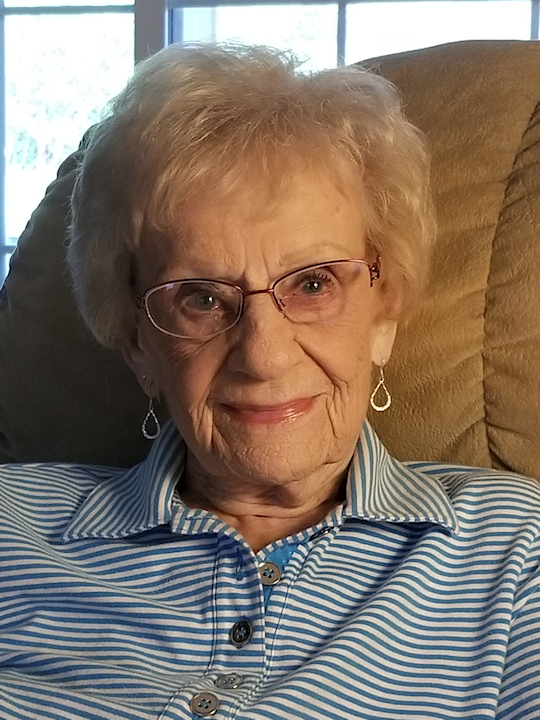 Carolee Courtney Johnson
Thursday, October 7, 2021 at 1:00 P.M.
Carolee Courtney Johnson passed from this life at the age of 96, at Lake Cumberland Regional Hospital. She was born on September 22nd, 1925.
Carolee loved UK Basketball and loved to read. She was a world traveler in her younger days. She has been To Abidjan, South Africa, Korea, Paris, Syria, Port-au- Prince, Haiti, as well as many other places while her daughter and son-in-law were stationed around the world.
At home, she loved going to flea markets, yard sales, and most of all loved the Lord. She was an active choir member at First Baptist Church until her eyesight forced her to quit a few years ago. She dearly loved her church family. She also loved adventure and went skydiving at the young age of 88 and then again at 92.
She was preceded in death by her parents, Guy and Ethel Bell Tremble, brother, Alan Tremble, son, Tom Courtney, daughter, Chris (Courtney) Weissmiller, and first husband, Edward Courtney.
She leaves behind to cherish her memory, her loving husband, Darrell Johnson, her daughter, Susan Courtney (special friend, Mary) of Wilmington, NC; son, Monty (Tammy) Courtney of Columbia, Ky; her sister, Katherine Brown of Indianapolis, IN; step-daughter, Angie Parcell of Batesville, IN; step-son, Matthew (Monica) Johnson of Sunman, IN; step-daughter, Amanda (Casey) McIntosh of North Bend, OR; as well as many grandchildren, great-grandchildren, nieces and nephews.
Visitation will be held on Thursday, October 7, 2021 from 11 A.M. to 1 P.M. at First Baptist Church with a funeral service to begin at 1 P.M. with Bro. David Pendley officiating. Burial will follow in Mill Springs National Cemetery.
In lieu of flowers, donations can be made to the First Baptist Choir.
Southern Oaks Funeral Home is entrusted with the arrangements for Carolee Courtney Johnson.