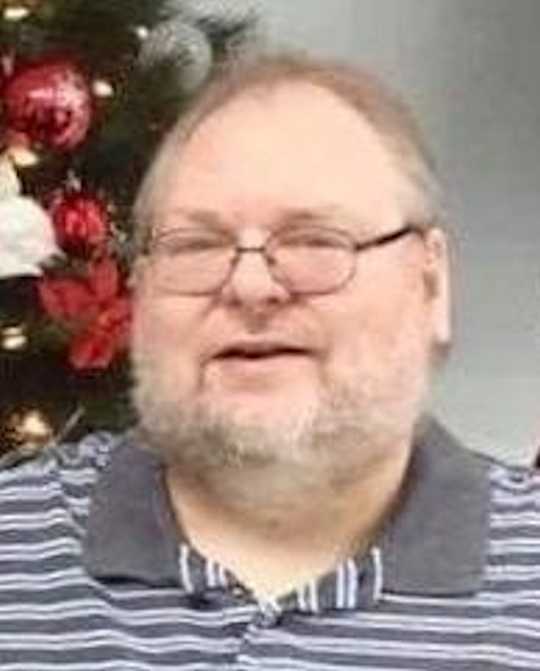 Charles Brian Jasper
Friday, March 15, 2019 – 2:00 P.M.
Charles Brian Jasper, age 56, of Somerset, KY passed away peacefully at his home surrounded by family on March 12, 2019 after having faced several health obstacles for years.
Brian was born in Somerset, on October 30, 1962, to the late Janet Pierce Jasper and the late Levi Jasper.  He was the grandson of the late Charlie and Mary Jasper of Windsor, KY and the late Clifford and Uma Ard Pierce of Burnetta, KY. He was preceded in death by his parents, a special brother in law Benny Smith of Elizabethtown, NC, and a special uncle, Ronald C. Johnson of Somerset.  Brian is survived by his beloved wife of 32 years, Rev. Scarlette Jasper.  He leaves behind to cherish his memory a son, Rev. Roger Leon Jasper (Jessica) of Elizabethtown, and two adored grandchildren, Paul and Anna Jasper.  A daughter, Layla Rebecca Padgett (Aaron), and dog Banjo of Columbia, MO, and daughter Amoreena Harmony Jasper of Somerset.  He leaves behind one sister, Mary Jasper Vitatoe and special brother in law James, of Somerset, and nieces Abigail and Lily.  Also surviving are a special aunt, Linda Sue Johnson, uncle Leon Jasper, beloved cousins, and numerous extended family members in NC and other parts of the U.S.  Treasured friends who were with Brian until the end include Frank Crabtree of Liberty and Kevin Caudill of Somerset.
Brian grew up attending West Somerset Baptist Church where he was saved and baptized as a young man and where he and Scarlette were married. Brian was also a former member of Slate Branch Baptist Church.  Faith played an integral part in his life and formed the basis of how he treated others, with compassion and generosity of spirit.  In more recent years Brian was a member of Cornerstone Baptist Fellowship in Monticello, KY, where he attended with his wife.  His pastor and church congregation there were extremely special to Brian and the uplifting and loving atmosphere in this church created a home for him to share his music.
A graduate of Pulaski County High School, class of 1980, Brian was active in chess club, chorus and baseball.   He attended Somerset Community College and was a member of the theatre, performing in Stoner Theatre productions. From an early age Brian showed an unusual and heightened proclivity for music and musicianship.   His encyclopedic knowledge of music and love of classic rock music and top 40 music of the 70's was unparalleled and lead him to pursue a life time of work devoted to music.
Brian was a naturally gifted guitarist, pianist, keyboard player and guitar instructor.  When young, he played in local rock and roll bands but later focused seriously on his own rock and country compositions and submitting these songs for publication.  This led to Brian being a member of the ASCAP organization for songwriters and having his songs successfully recorded by musicians Dobie Gray and country music legend Sonny James whom he wrote songs with for over 30 years.  Brian was also a master music engineer, with a state of the art home recording studio where for decades he wrote, produced and played on hundreds of his own musical compositions in genres ranging from pop/rock to country, rockabilly, blues, surf/trop rock music, garage rock, hymns and spiritual music he loved to share with church congregations.  Even in times of bad health, Brian never stopped producing amazingly rich vocal and lyrical compositions and delighted in sharing them with others. Brian was also a rock music journalist for Goldmine magazine where he passionately and with minute accuracy and lyrical nuance reviewed records and interviewed musical legends such as Monkee Davy Jones, Rod Argent and Colin Blunstone of the Zombies, soon to be inducted in the Rock and Roll Hall of Fame. Brian was a noted member of East End Lights society for Elton John fans with friends all over the world he communicated with that shared his love of Elton John.
As a member of the Somerset community, Brian was most well-known for many years as sales manager, and radio personality at WLLK Lake 102 where he worked among some of the finest people in radio.  He produced award winning commercials for local businesses and also was the disc jockey for the popular drive at five. His upbeat and cheerful radio voice was pure gold and much sought after by local businesses for promotion. His  legendary sales acumen is still recognized by those who worked with him in this field, a trait Brian learned from time spent in the mobile home sales business with his father. As a DJ, Brian was known for his Jasper Family DJs business and his spirited way of providing music for local nonprofit and community events including March of Dimes America.  The last several years Brian hosted and produced numerous popular radio shows for WHAY radio station in McCreary County which included the long running Beatles Magical Mystery Show and The Elton John Happy Hour.
While music was his lifelong passion, most importantly, Brian Jasper should be remembered as a devoted son, husband, father, and grand-father. His family was most important.   He was a mentor and hero to his sister, beloved uncle to his nieces and nephews, and a faithful friend to the end for many. He was an artist who celebrated things that spoke of truth and beauty. He bravely faced his recent declining health with strength and courage.  His humor, wit, enjoyment of life, and creative spirit will always live on in those who knew him.
Visitation for Brian will be Friday, March 15th, in the chapel at Southern Oaks Funeral Home, from 10 a.m. until 2 p.m.  Funeral service will begin at 2:00 pm with Rev. Roger Jasper and Rev. Burney Manning officiating.  Burial will be in the Burnetta cemetery in Nancy, KY.  In lieu of flowers the family requests that donations be made to Olive Branch Ministries, 104 Oakdale Drive, Somerset, KY 42503.