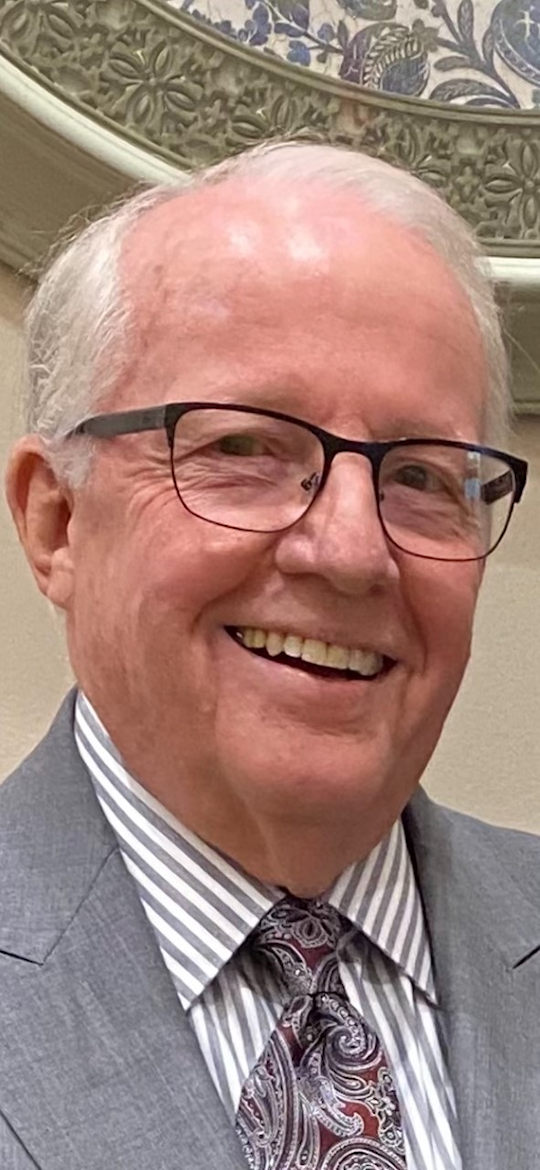 Dr. Harold Joseph Brown
Saturday, March 26, 2022 at 10:00 A.M.
Dr. Harold Joseph Brown, 80, entered heaven's glory Friday, March 18, 2022 at St Joseph Hospital, Lexington KY surrounded by his wife, family, his pastor and his wife. He was born May 1, 1941 at home in Franklin OH the son of Arlie and Virgie (Johnson) Brown. Dr. Brown graduated from Franklin High School then married the love of his life Greta (Childers) Brown, January 31, 1959. Following graduation Dr. Brown served as a medical corpsmen in the US Navy. Upon leaving the Navy with a letter of commendation, Dr Brown, his wife and newborn son moved back to Franklin OH where he began his career at NCR Dayton, OH
Dr Brown accepted the Lord as his personal Savior, the third Sunday of March, 1961 answering the call to ministry in the spring of 1966. Dr Brown, his wife, and three children, Dan, Melissa, and David made their new home in Springfield MO where Dr Brown entered and graduated from Baptist Bible College in May 1970 where he later served as trustee.
Dr. Brown served as student pastor and pastor at the Cherry St Baptist Church, Springfield MO; the Calvary Baptist Temple, Joliet IL; alongside his mentor and spiritual father in ministry, Dr Howard Sears (a Pulaski co native) at the Grace Baptist Church, Middletown, OH before being called to pastor the Oak Hill Baptist Church in June 1982. It was at Oak Hill Dr Brown spent the majority of his life and ministry sharing the gospel, loving and investing in people. While pastoring Oak Hill Dr Brown led the church in three major building programs, established a thriving missions outreach program, had a daily radio broadcast for years, BASICS FOR LIVING, helped start a church (Gracepoint) in Richmond KY was a staunch supporter of AIM, PERM, and other various community organizations. He was a champion of the TEN COMMANDMENTS movement going to Washington DC to hear Pulaski Co vs ACLU argued before the US Supreme Court. He was involved in several community events, organizations throughout the county.
Since stepping down from the pastorate in 2010, Dr Brown focused his time and energies on developing the Somerset Christian School. During his tenure Dr Brown raised millions of dollars for the school his latest accomplishment a state of the art STEM lab. Dr Brown had a love for God, his family, his ministry family and children and a compassionate heartbeat for the world. Dr Brown helped raised hundreds of thousands of dollars for missions (church plants, feeding centers, hospitals) etc. visiting and ministering in 13 different countries.  His heart bled missions both home and abroad.
In addition to his parents, Dr Brown was preceded in death by his son, Dr David Allan Brown, and his twin brother Robert Daniel Brown, and two nephews. He is survived by his wife of 63 years, Greta Brown, Somerset, his son Dan Brown, Somerset, his daughter and son in law Melissa and Ron Hall, two granddaughters, Aimee Hall, Nashville, Amber and Will Gallison, Bangor ME, grandson Alex Brown, Somerset, and three greatgrandchildren Ella, Brady, and David Gallison, Bangor ME a sister, Joann Gross, Somerset, sister in law, Marsha Brown, Franklin OH and many nieces and nephews.
Visitation will be held on Friday, March 25, 2022 from 5 P.M. to 8:30 P.M. at Oak Hill Baptist Church. Visitation will continue on Saturday, March 26, 2022 at 8 A.M. at the church, with a funeral service to begin at 10 A.M. with Rev. Gary Phelps and Rev. Jack Alumbaugh officiating. Burial will follow in Oak Hill Cemetery.
Those who wish to remember Dr Brown in a special way may make gifts in his memory to the Somerset Christian School Foundation and/or MANNA Worldwide
Dr. Brown would encourage everyone with his favorite verse Proverbs 3:5,6. Trust the Lord with ALL your heart, lean not to your own understanding, in all your ways acknowledge Him, and He WILL direct your paths.