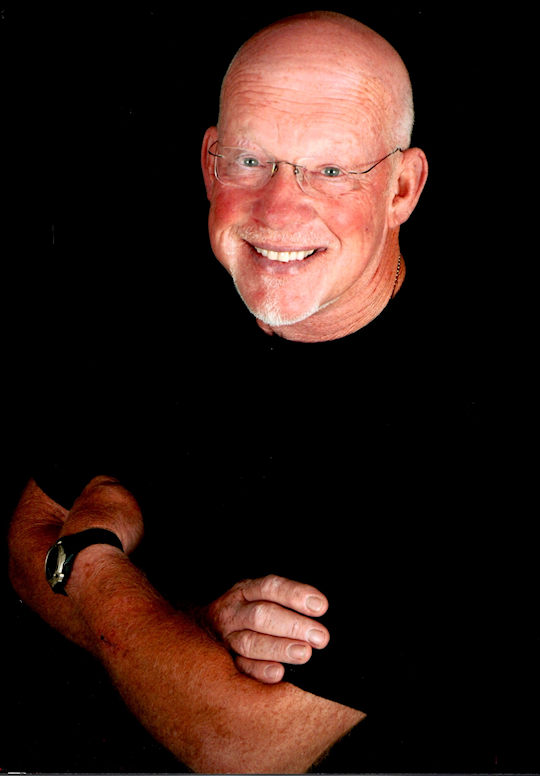 Edward M. Cook
Wednesday, October 11th at 12:00 P.M.
Mr. Edward M. Cook of Somerset passed away on Friday, October 6th in Abingdon, Virginia. Mr. Cook was born on November 18, 1944 to Elza and Marie Cook in Danville, Illinois. He is survived by his wife of 48 years, Linda Cook, a daughter and son-in-law, Amanda and Levi Evans and by his grandchildren, Harrison and Alden Gabbard, also of Somerset. He is also ' survived by his sisters, Kathy Bragg, Sharon Pruitt, and Shirley Grider of Moore, South Carolina and his dear sister-in-law, Sandra Harris of Somerset. He leaves behind his beloved Boykin Spaniel, Sonny. He was preceded in death by his parents and his brother, Allen Cook. He also leaves behind a host of cousins, nephews and nieces.
Mr. Cook harbored a deep love of nature. He was a proud Kentuckian and never felt closer to God than in the middle of Buck Creek or deep in the Daniel Boone Forest. His sense of humor was unmatched and he will leave behind a legacy of laughter, kindness, and resiliency with all of those who were lucky enough to know him.
Mr. Cook and family are members of First Presbyterian Church of Somerset. Visitation will be at the church on Tuesday, October 10th from 5-7pm. The funeral will also be held at First Presbyterian Church on Wednesday, October 11th , starting at noon, with a private graveside service at Mill Springs National Cemetery in Nancy, Kentucky. In lieu of flowers, one could honor Mr. Cook's legacy by donating to the Kentucky Fish and Wildlife Foundation or First Presbyterian Church. Their donation links can be found at kentuckywildlife.com or at fpcsomerset.com
Ed loved others, and he loved life. He was known to others by many names: husband, dad, son, airman, staff sergeant, brother, brother-in-law, coach, teacher, cousin, friend, and mentor. But upon the arrival of his two grandchildren, Harrison and Alden, the birth of a new named was earned: that of "Papa", and that immediately became his very favorite name to be called. If you talked with Ed for just a few minutes, you quickly learned how much he loved his grandchildren, and how highly he thought of them.
Ed loved to travel. Growing up as a "military brat", he lived in different states, and even Bermuda, where he attended grade school, wearing the cute little uniforms that were part of its academic tradition. In later years, Ed returned to Bermuda with Linda and Amanda in the mid 1980s, and visited the school where he had attended as a boy. While there, he encountered one of his former teachers who was then serving as Headmaster, and great conversation and many memories were shared between them and with Ed's family.
Although as a youngster his family settled in Greenville, South Carolina, Ed always loved and considered Kentucky to be his "home". With the goal of obtaining higher education, he attended Lindsey Wilson college for two years, but being too poor to continue, he joined the United States Air Force, even extending his time in the service in order to serve his country during the Vietnam war. Upon returning home from Vietnam, he furthered his education by taking advantage of the opportunities he had earned under the GI Bill, and went on to complete his Bachelor's Degree in Education at Campbellsville College. Not long after, he obtained a Master's Degree and his Rank One from Eastern Kentucky University, in Education Administration.
Those who knew Ed, knew he was a teacher. He had accepted his first teaching position at White Lily Elementary, where he taught Eighth grade, coached basketball, and served as Head Teacher. He later transferred to Pulaski County High School, teaching World Civilization and Advanced Placement European History, coaching tennis, and serving as an Assistant to Dave Fraley in the school's basketball program. Ed later became Athletic Director at Southwestern High, and then retired from teaching after 27 years.
His retirement didn't last long, however. He was asked to return to the School System to open and oversee the facilities' energy programs. After its implementation, he monitored and maintained the program for a few years– faithfully– which earned him the nickname "Energy Ed". After handing off these duties, he took the position as the school system's "Director of Operations", in charge the buildings and grounds, where he performed these duties for three years until his permanent retirement in 2003.
Ed loved his family. It was during his White Lily years when Ed met Linda, the love of his life. Linda was attending Somerset Community College, at the time, in the nursing program there. The two had their first date in December 1974, and four months later, were married on April 19, 1975. It was truly "love at first sight", and that love to grow for 48 and-a-half blessed years together. They both considered their greatest gift to be their daughter, Amanda. She was so loved by her Daddy, and he was always so very proud of her. (And so is her mom!)
Edhad a very special sister-in-law, Sandra Harris, who he often joke that she was his "second wife". It was only Sandra who he entrusted with caring for his beloved fur-babies, "Bailey" and "Sonny". He loved her dearly.
Ed loved teaching, and truly had a passion for it. He loved all his students, and continued to teach and mentor even after retiring from "paid teaching". While he wore many hats during his career, it was the classroom that captured his heart, allowing him to shine and express his talents. He was an avid reader, and he read daily, and passed that love on to his daughter and others.
Ed was loved by others. Linda said that during Ed's illness over the past three years, the couple could not have traveled that journey without the help of Drs. Eric Ruby, Stanton Cole, and Scott Lewis, who were always just a phone call away. Linda recognizes them as angels among us.
Ed had a special cousin, Scott Lawless and his wife, Melanie, who contributed so much to Ed's quality of life, always including the couple and taking them on adventures, dining experiences, ice cream runs, and to medical appointments. Ed and Linda loved every minute they spent with them, and Linda thanks them for their presence during the past week in Abingdon, Virginia.
Now, Ed, may you rest in peace, faithful husband, dad, papa, son, brother, brother-in-law, cousin, airman, coach, teacher, and friend. Know that we loved you so very much, and we will miss you so very much. We are comforted in knowing that you have been made whole, our Father in Heaven having given you perfect healing, and you are now in the Eternal presence of Jesus, your Lord and Saviour. We will see you again, dear Papa.