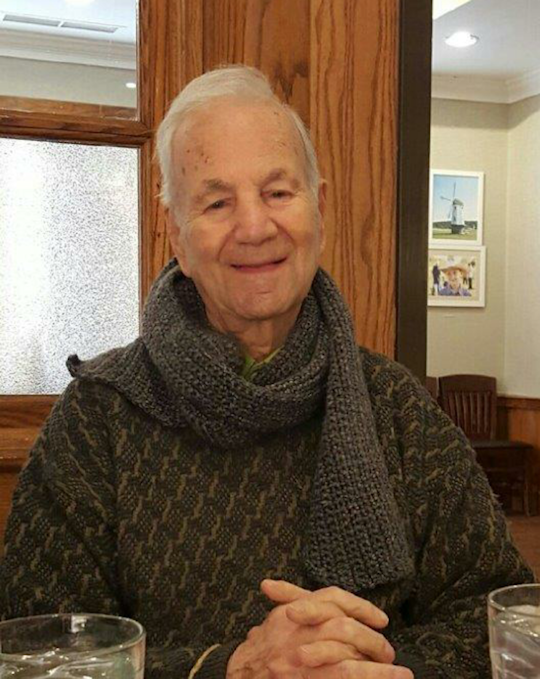 Edwin "Ed" Hamilton Tomes
Monday, September 27th at 12:00 P.M.
Edwin "Ed" Hamilton Tomes age 104 years 9 months and 17 days passed from this life on Monday, September 20, 2021. He was born on December 3, 1916 in Detroit, Michigan to the late Hamilton Tomes Jr. and Theresa M. Gardella. He retired in 1982 from The Ford Motor Company in Sterling Heights, Michigan where he worked as a supervisor. He loved traveling around Europe and was an avid golfer. His greatest enjoyment came from attending horse racing events, especially the Kentucky Derby.
He is preceded in death by his parents, son Allen Edwin Tomes Sr., daughter Carol Ann Collins, son Thomas Walter Tomes, grandson Thomas Allen Tomes, brother Charles James Tomes, nephew Robert Edward Tomes, niece Theresa Ann Brown and his very dear friend Evelyn M. Hunley.
He is survived by his children; Mark (Julie) Tomes of Walled Lake, Michigan, Gary (Denna) Tomes of Fort Mill, South Carolina, Quinea (Robert) Rickard of Heath, Ohio, Cynthia (Michael) Fields of Olive Branch, Mississippi and his brother William Tomes of San Diego, California. He is also blessed with 13 grandchildren, 19 great grandchildren and 3 great great grandchildren, many nieces and nephews, canine companions Sarge and Major and his friends from his morning coffee crew: Jake, Doug, Ron, Ray and Millie.
Funeral services will be held at 12:00 on Monday, September 27th at Southern Oaks Funeral Home 2110 KY-914, Somerset, KY 42503 with visitation beginning at 11:00 a.m. with interment to follow at Lakeside Memorial Gardens, 4790 W, KY-80, Somerset, KY 42503.