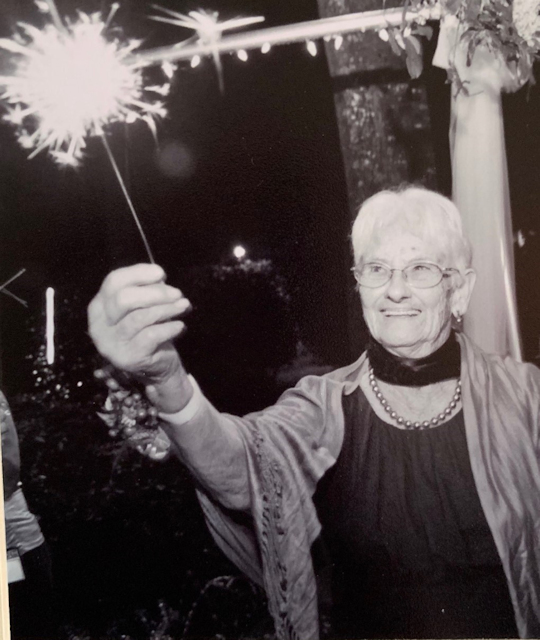 Emmie C. Smith
Tuesday, August 13, 2019 – 3:00 P.M.
Emmie C. Smith age 94 of the Mt. Victory Community passed from this life Saturday, August 10, 2019 at the Lake Cumberland Regional Hospital.
Emmie was born June 20, 1925 in McCreary County, Kentucky to the late Jim Matt Ridner and Zella Goodin Ridner.
She was a member of Mt. Victory Baptist Church, she loved spending time with her family and her grandchildren.
Emmie was preceded in death by her husband, Jesse Smith; her parents; sons, Roy Lee Taylor; Charles Taylor; Elvis Smith; daughters, Gathaline Smith; Ruth Smith; sisters, Margie Ridner Taylor; Elizabeth Ridner Noe; half- sisters, Lyla Sloan; Gracie Bumgardner; Ola Tool; half- brothers, Henry Ridner, Loyd Ridner; and two grandchildren.
She is survived by her sons, Herbert Taylor (Mildred) of Mt. Victory; Ernie Smith (Violet Franklin) of Somerset; Jesse Smith of Somerset; daughters, Margie Taylor Helton (Kirby) of Deland, FL; Lillie Mae Smith Willamson (Ronnie) of Mt. Enterprise, TX; Linda Smith Robertson (Danny) of Gainesville, GA; Mary Bray (Eugene) of Mt. Victory;  18 grandchildren; 34 great grandchildren; and six great -great grandchildren. She will be missed by all who knew and loved her.
Visitation will be Tuesday, August 13, 2019 from 12 to 3 P.M. in the Chapel of the Southern Oaks Funeral Home with a funeral service to follow at 3 P.M. with Bro. Raymond Ridner officiating.
Pallbearers will be her grandchildren.
Burial will be in the Mt. Victory Baptist Church Cemetery.
In lieu of flowers, donations can be made to the Mt. Victory Baptist Church fund.
Southern Oaks Funeral Home is entrusted with the arrangements with Emmie C. Smith.