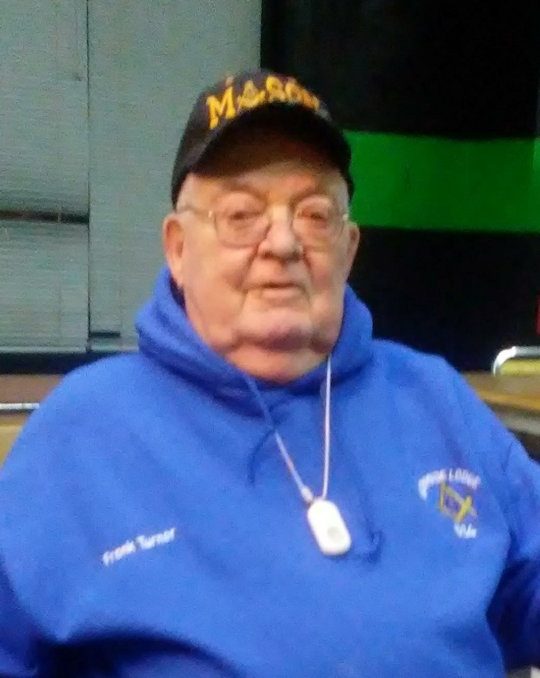 Frank R. Turner
Sunday, June 16, 2019 – 1:00 P.M.
Frank R. Turner age 79 of the Slate Branch Community went to be with the Lord on Thursday, June 13, 2019.
He was born to the late Clyde Turner and Wilmuth Pennticuff Turner in Monticello, Kentucky on December 27, 1939 
He was co-owner and operator of Lynn's Furniture, affiliated with Lake Cumberland Flea Market for 25 years known for the "leather booth." He was a member of the Burnside Masonic Lodge #634. He was known for his kindness and willingness to help others. He has many friends to mourn his passing. He will be missed by all who knew and loved him.
He was preceded in death by his parents; brothers, Harvey Turner, Bill Turner, Osby Turner; sisters, Mae Hoover, Sue Belle, and Tena Riddle.
He is survived by his loving wife of 55 years, Linda (Daulton) Turner; sons, Barry (Tawanna) Turner of Somerset; Roger (Vickie) Turner of Monticello; daughters, Mitzi Poynter (Tony Ray) (Tony Ray was also a special caregiver) of Slate Branch; Teresa Turner of Campbellsville, Kentucky; brothers, Doyle Turner of Slate Branch; Mack Turner of Monticello; sisters, Madge Lee of Albany; Betty Ramsey of Albany; June Pugh of Albany; grandchildren, Kasi Keeling; Amber Turner; Breezi Turner; Crystal Turner; Dillon Dalton; Wyatt Dalton; Mason (Sierra) Dalton; Amber Legg (Daniel); great grandchildren; Abigail Turner; Merick Turner; Liam Davidson; Slater and Kamden.
Pallbearers will be Tony Ray Poynter, David Turner, Robert Lawson, Doug Bucheney, Ronnie Lee Hall, Ross Price. Honorary pallbearer will be Liam Davidson.
Visitation will be Saturday, June 15, 2019 from 5 to 7 P.M. in the chapel of the Southern Oaks Funeral Home with Bro. Gilbert Robinson officiating.
Masonic Rights Service will begin at 7 P.M. at the funeral home. A graveside service will be held Sunday, June 16, 2019 at the Slate Branch Cemetery at 1 P.M.
Southern Oaks Funeral Home are entrusted with the arrangements for Frank R. Turner.