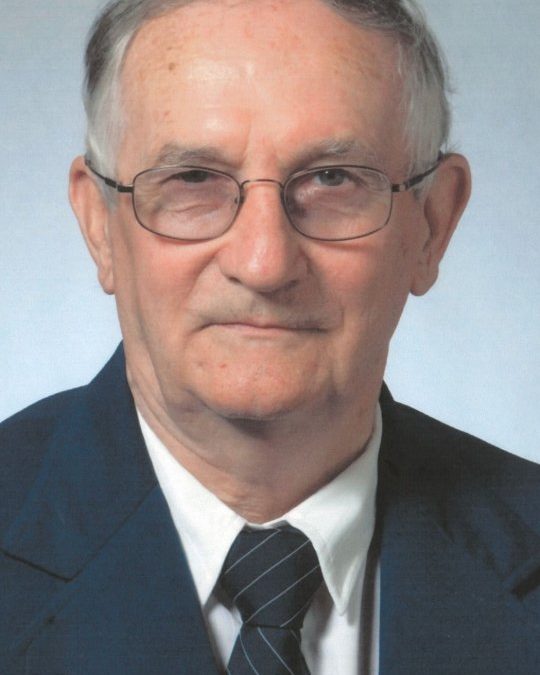 George Antal Grozdits
Saturday, November 25, 2017 – 3:00 P.M.
George Antal Grozdits was born in Balmazújváros, Hungary on 6 February, 1936. He passed peacefully in his sleep in Somerset, Kentucky on 20 November, 2017.
He leaves behind his wife, Judy Eames Grozdits and his son, Gregory George Grozdits.
He grew up in Hungary and was admitted to the prestigious Forest Academy in Sopron, Hungary. In 1956, as the Soviet tanks rolled on the streets of Budapest, the entire Academy in Sopron: professors, wives, children, students and janitors walked across the border into Austria in protest. The University of British Columbia, Canada, offered asylum. Some 200 students continued their education and received their B.S. Degrees. George received his M.S. in 1967 and Ph.D in Wood Science in 1970 from Virginia Polytechnic University, Blacksburg, VA. There he met, fell in love with and married Judy Lucille Eames. He worked in Canada, where his son, Greg, was born. The family moved to California where he taught at UC Berkeley and had his own lab and graduate students. He capitalized on an opportunity to work in industry and moved to Florida and later to Kentucky. He then taught at Louisiana Tech University, and also earned a Ph.D. in Engineering. On September 14, 2006, Dr. George A. Grozdits was awarded the Pro Facultate Ligniensis medal in West Hungary, conferring the title of "Doctor, Doctor Honoris Causa" for his long time collaboration with the Faculty of Wood Sciences from Sopron, returning full circle to where his education began. He retired in 2014. He had seven patents, and two pending, including one that removed formaldehyde from wood, reducing carcinogens in building materials. He enjoyed his last years traveling Europe with his wife and son. He loved to make other people laugh, worked diligently his whole life to make the world a better place, always had a smile and will be sorely missed by his family and those who knew him. I
In lieu of flowers, a scholarship fund has been established at Citizens National Bank In Honor of George Antal Grozdits.
Visitation will be Saturday, November 25, 2017 beginning at 1:00 PM in the Chapel of Southern Oaks Funeral Home with funeral services at 3:00 PM at the funeral home with Pastor Doug Couch officiating.
Southern Oaks Funeral Home is entrusted with the arrangements for George Antal Grozdits.