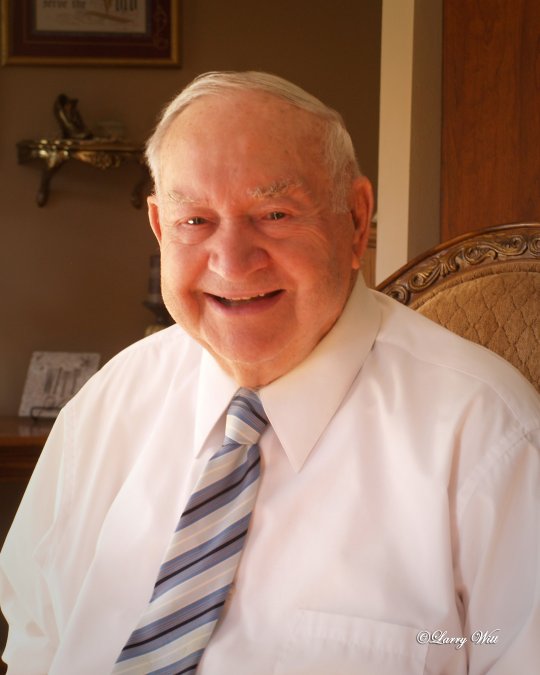 George Wallace Witt
Friday, December 1, 2017 – 2:00 P.M.
Mr. George Wallace Witt, age 96, of Somerset, formerly of Casey County, Kentucky passed from this life on Wednesday, November 29, 2017 at the Hospice of Lake Cumberland, Jean Waddle Care Center after an extended illness.
He was born in the Allen's Creek Community of Casey County on April 9, 1921, Son of the late Luther Witt and Maud Eller Allen Witt. George was a retired employee of General Electric Manufacturing in Louisville, Kentucky as well as a retired farmer. He enjoyed fishing, traveling, spending time with his family and friends as well as attending church and reading the Bible. He was of the Baptist Faith and a member of the East Somerset Baptist Church. George was a loving, kind and gentle man who enjoyed life. He was proud of his service to his country in the United States Army and his participation in the Presidential Inauguration of President Franklin D. Roosevelt and a veteran during World War II. He will certainly be missed by those who knew and loved him.
Besides his Parents, George was preceded in death by his first wife; Irene Thompson Witt of whom was the mother of his children, and a previous wife; Ione Witt granddaughter; Kimberly Dawn Brown and great-grandson; Ryan Clay Brown, Brothers; Paul Witt, Howard Witt and Luther Witt, Jr., and three Sisters; Roberta Atwell, Edith Taylor and Opal Helm as well as three siblings that passed in infancy.
He leaves to cherish his memories; a Son; Larry (Connie) Witt of Somerset, two Daughters; Donna Price and Waunda Witt of Liberty, his Grandchildren; Dennis Wayne Wesley, Jr., Anthony Ray Wesley, Steven Boyd Brown, Brian Keith Brown, David Stuart Brown, Michael Scott Brown, Larry Ray Witt, II, Charalisa Dawn Witt and Amberly Witt, Morgan Matison Witt and Braxton Graham Witt. Thirteen Great-grandchildren and one great-great-grandchild as well as a host of other relatives and friends.
Visitation will be from 6:00 p.m. until 9:00 p.m.on Friday, December 1, 2017 in the Chapel of Southern Oaks Funeral Home and at the New Testament Baptist Church, 707 Houstonville, Street, Liberty, Kentucky on Saturday December 2, 2017 from 12:00 p.m. until 2:00 p.m. The Funeral Services will be at 2:00 p.m. with Pastor Darvin Fenison, Pastor Gary Phelps and Pastor George Pierce officiating. Interment will be in the Green River Valley Separate Baptist Church Cemetery in Liberty, Kentucky.
Southern Oaks Funeral Home is entrusted with the arrangements for Mr. George Wallace Witt.