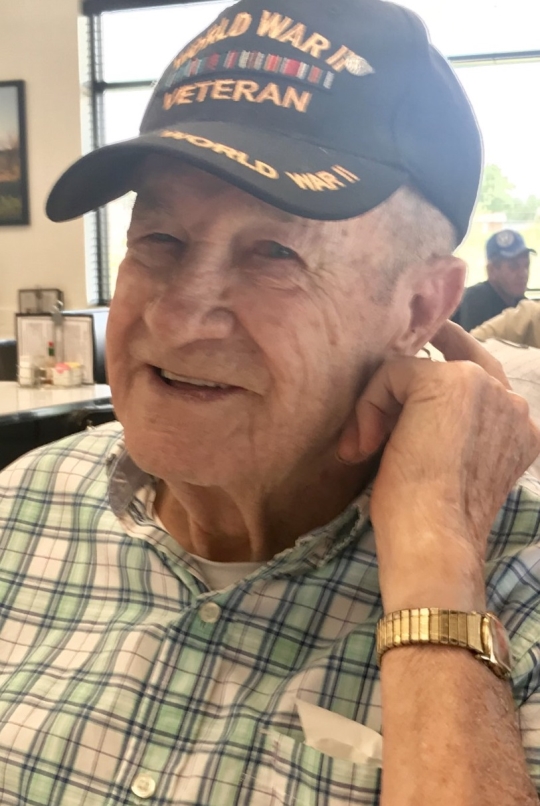 Hulen Troxtel
Saturday, March 21, 2020 – 12:00 P.M.
Hulen Troxtel, age 93, of Bronston, Kentucky, passed from this life on Tuesday, March 17, 2020 at Lake Cumberland Regional Hospital.
He was born on December 20, 1926 in the Quinton Community of Pulaski County, son of the late John Walter and Lou Ellen Nicholas Troxtell.
Hulen retired from American Ship Builders as a boiler maker. He proudly served his country in the United States Army having served in WWII and was a member of Piney Grove Baptist Church #2. He enjoyed going fishing, playing cards, doing yardwork, cooking and canning. Most of all he loved spending time with his family.
He was preceded in death by his parents, his wife; Jeannette Bennett Troxtel, mother of his children; Joan Flynn Perry, brother; Lathene Troxtell, and a sister; Emma Stigall.
He is survived by one son; Jimmie Lee Troxtell of California, two daughters; Juanita Faye Madaloni of California and Shirley Ann (Joel) Rose of Washington State, one sister; Rosie Hogue of Science Hill, three grandchildren; John Madaloni, Jr., Brandi (Paul) Kuljis and Chris Madaloni, great-grandchildren; Blake Croy, Sandie Madaloni, Jason Madaloni, Jenna Madaloni and Makenna Kuljis, great-great-grandchildren; Gavin Croy and Maliyah Croy, numerous nieces, nephews and cousins.
A private visitation will be held on Friday, March 20, 2020 from 6:00 p.m. until 8:00 p.m. in the Chapel of Southern Oaks Funeral Home. Private funeral services will be held on Saturday, March 21, 2020 at 12:00 p.m. in the Chapel of Southern Oaks Funeral Home. Burial will be in Hollars Cemetery in Bronston.
Southern Oaks Funeral Home is entrusted with the arrangements for Hulen Troxtel.