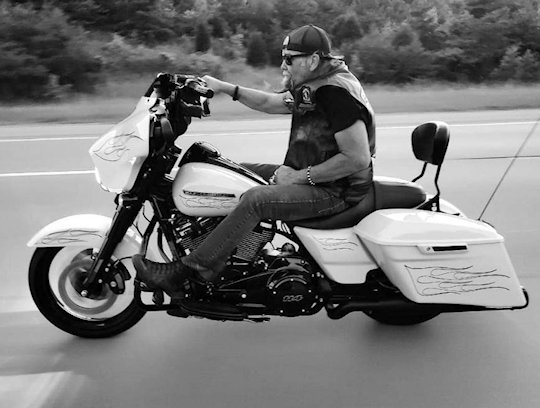 James "Paps" Keeney
Wednesday, February 8, 2023 at 1:00 P.M.
James "Paps" Keeney, age 58, departed this life on Saturday, February 4, 2023 surrounded by loved ones. He was born on June 5, 1964 to the late Arnold and Louise Keeney in Somerset, Kentucky.
Paps enjoyed life to the fullest. He enjoyed spending time with his wife, kids and grandbabies. Paps would fire up the grill, invite everyone to come over. He would cook some amazing food and make sure all had a great time. Life was never boring with him. One of his biggest enjoyments was riding his Harley at 100+ miles an hour with anyone who wanted to ride.
He was preceded in death by his parents, his brother Paul Keeney and great-nephew, Maddox Wilson.
He leaves behind to cherish his memory his loving wife of 35 years, Melissa Keeney. His sons, Craig (Taran) Keeney, Chad (Jessie) Keeney, his daughter, Ciarra (Shone Stevens) Keeney. His son by heart, James Warren. His brothers, Gene (Barbie) Keeney; Charles (Georgia Fay) Keeney; Don (Pat) Keeney. His sisters, Carol Strunk, Christy (Allen) Boyer, Charlotte (Curt) Carrender, Barbara (Raymond) Miller. 12 grandbabies, Bryson, Kirstynn, Isaiah, Kennedy, Ryker, Kinley, Adalynne, Cash, Kingston, Keelyn and Kaisley. 5 grandbabies by heart, Christopher, Hannah, Braxton, Bentley and Waylon. An amazing group of club brothers and sisters of the 60's Rider MC of Somerset, Kentucky and The Outlaws MC.
Visitation will be held on Tuesday, February 7, 2023 at 5 P.M. in the Chapel of the Southern Oaks Funeral Home. Funeral service will be held on Wednesday, February 8, 2023 at 1 P.M. at the funeral home. Burial will follow in the Southern Oaks Cemetery. Southern Oaks Funeral Home is entrusted with the arrangements for James "Paps" Keeney.