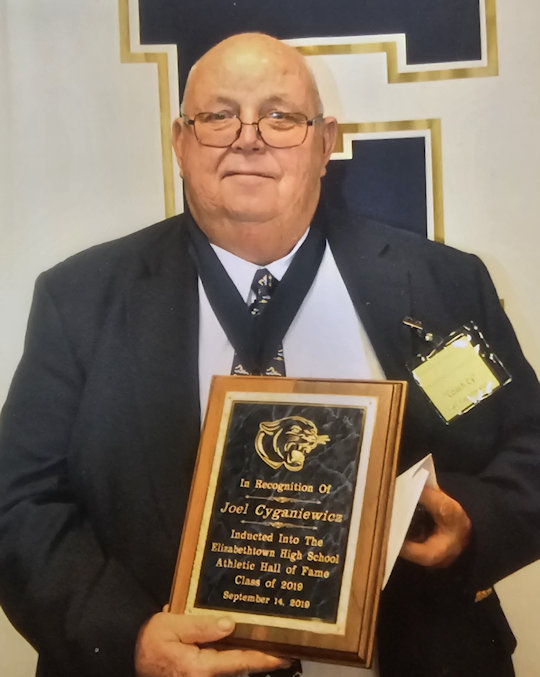 Joel R. Cyganiewicz "Coach Cy"
Joel R. Cyganiewicz "Coach Cy", 79 of Burnside, Kentucky passed away on Sunday, August 27, 2023 at the University of Kentucky Medical Center in Lexington, Kentucky
Cy was preceded in death by his parents, Virginia Barrett Cygan and Joseph Alexander Cygan. He is survived by Sara "Ginger" Mercer Cyganiewicz, who was his wife and partner throughout their 57 years of marriage, as well as their sons; John Christopher Cyganiewicz (partner Kim Clatterbuck), Donald J "DJ" Cyganiewicz (wife, Kristyn Kay), and Kenneth "Kenny" William Cyganiewicz.
Cy graduated from East Carolina University with a Bachelor of Science degree in Physical Education and minors in psychology and history which is where he met his wife to be, Ginger. He achieved a Level 5 coaching status in United States Swimming which is the highest level in coaching.
Cy began his coaching career in 1965 while in college and dreamed of becoming a US Olympic Coach. He helped organize and coach the East Carolina Swim Association in Greenville, NC. Upon graduation in 1966, Cy and Ginger moved to Raleigh, NC to teach while also coaching the Raleigh "Y" Swim Team. After three years in which he had numerous top ten in respective age groups and building a much larger team, they moved to the Florida Gold Coast which was the "hot bed of swimming." Lake Worth Swim Association was a small unknown program but under Cy there were numerous top ten in the nation, and more swimmers. The team bought a swim club for member and training purposes, of which Cy became the manager and coach. He wanted to be a full-time coach so accepted a job as Head Coach of the Westside Victory Swim Club in Nashville, TN where he discovered the 8-year-old swim phenom, Tracy Caulkins. The team set a record for the 11-12 400 Medley Relay. Cy's swimmers went on to set numerous records and the team grew. Cy was approached to move to Elizabethtown, KY. and accepted the job as Head Coach. Under Cy's tutelage the E'town Panthers accumulated 15 individual state titles, 12 of which were state records. Cy led the Panthers to 3 boys state titles, 3 boys state runner-up titles, 1 girls state title, 3 girls state runner-up titles, 5 combined state titles as well as 20 regional records. Coach Cy was Mens Coach of the Year in 1987, 1988, 1990 and the Outstanding Female Coach of the Year in 1989, 1990, and 1991, as well as nominated as National Coach of the Year in 1989. Under Cy's lead, the team grew, more records were broken, and a pool build. He also formed the Master's program, bid and won the US Masters Nationals meet; a great accomplishments for a small town. Moving on to Bettendorf, Iowa, he became the head coach of the USS and high school swim team where he again built the program, but the stress of coaching took the toll. He had open heart surgery so decided it was time to work in a less stressful position. He became the senior coach in Rochester, MN. However, after being a head coach for so many years, he found it to be more stressful. He accepted a position as head coach of Occoquan Swimming in Manassas, Virgina. The program became more successful and Cy also formed a Masters program. After 50 years with numerous records, national swimmers, swimmers who went to college on part-time or full time scholarships; three swimmers receiving the National Broderick award, three Kentucky high school boys state swimming championships and becoming a Kentucky Colonel, it was time to retire. In 2019, his accomplishments were highlighted as he was inducted into the Elizabethtown High School Athletic Hall of Fame. He built programs but most of all challenged his swimmers to be the best they could be as swimmer and citizens!
Cy and Ginger retired to Burnside, Kentucky in 2015. He was proud to become a 3rd degree Knight as a member of the Knights of Columbus in Somerset. He enjoyed the comraderie developed through working on their various community projects. Cy loved their lake view from the deck and the deer and birds. He enjoyed his hobbies of fishing, gardening, painting and creating fish and wildlife sculptures.
He will be greatly missed by all who knew him……we love you!
Southern Oaks Funeral Home is entrusted with the arrangements.