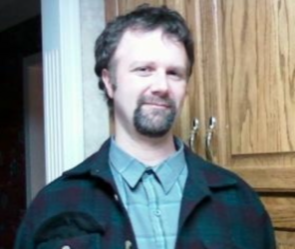 Marc Edward Davis
Saturday, April 16,  at 11:00 A.M.
Marc Edward Davis, Age 47
Passed away unexpectedly at his home in Somerset, KY on April 12, 2022
Marc was born on January 19, 1975 at Mercy Hospital in Hamilton, Ohio to Charles E. Davis and Patricia (Gibson) Davis of South Lebanon, Ohio.
The Davis family moved to Helena, Montana where Marc graduated Helena High School.
After graduation, Marc moved to Denver, Colorado to attend the Colorado Institute of Art, where he took classes in music theory and art. Afterward, he left Denver and moved to Bozeman, Montana where he attended the Montana State University and continued his studies in music theory. Marc had exceptional talent on the guitar, piano, and trumpet; and could play any instrument he picked up.
When he was thirteen he would watch MTV shows and could play along with the music and keep excellent time, as if he was on the stage with them.
Marc later moved to Portland, Oregon, where he was a partner in Aloha Sound Company and was responsible for the sound systems. Marc was a highly experienced and respected sound engineer and did the sound systems for multiple music festivals and several night clubs.
He joined his family in Somerset, Kentucky and attended culinary classes at Somerset Community College and worked for the Honey Baked Ham Company for many years. Marc loved to cook and was an excellent, creative cook and created the most artistic fruit trays.
Marc's artistic personality led him to many different paths, he loved working with his hands creating music, drawing, painting and many other things. He later attended Somerset Community College and took classes in welding, and worked as a welder for Hendrickson Manufacturing in Pulaski County.
Marc was currently working for Lake Cumberland Regional Hospital as a chef and cook.
Marc was an individualist who went his own way; he had a quiet demeanor. He never had anything bad to say about anyone and was a loving, kind soul to all he met. He loved to draw and created many things that he often shared with family. He was a sensitive caring man.
Marc was a unique, caring person; he lived with his mom and dad to be a help and support to them. He will be missed by his mom, dad, and the family's furbaby Yorkie named, Lyndsey Lu. Lyndsey and Marc were best friends. Marc will be missed by everyone who knew him.
Marc is survived by his mom and dad, and many aunts, uncles and cousins.
Marc was preceded in death by his maternal and parental grandparents, sister, Mindy Gail Davis and his brother, Jonathan Charles Davis, who recently passed away April 1, 2022. He's also preceded in death by many other family members.
A Celebration of Marc's life will be held for all family and friends on Saturday, April 16,  at 11:00 A.M. in the Chapel of the Southern Oaks Funeral Home, Somerset, Kentucky. The funeral service will begin at 12 noon (10 am Mountain Time) and will be lived streamed. There will be a fellowship and lunch provided at Oak Hill Baptist Church Gardens (2135 Oak Hill Road, Somerset) immediately following the services.
Marc's uncle Pastor Dean Spradlin and Pastor Richard Ramsey will officiate the service. A burial service will be held for Marc at a later date at the Deerfield Cemetery in South Lebanon, Ohio. Marc and his brother Jonathan will be laid to rest together. Southern Oaks Funeral Home is entrusted with the arrangements for Marc Edward Davis.