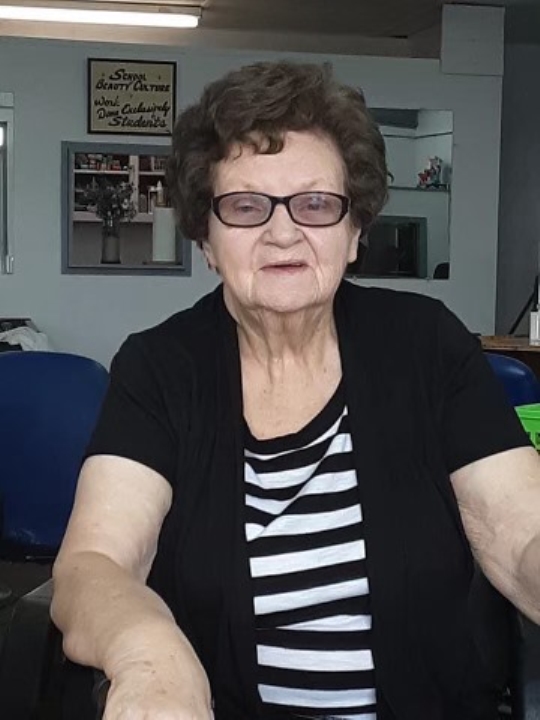 Mattie Irene Betz
Wednesday, January 27, 2021 at 7:00 P.M.
Mattie Irene Betz age 83, of Parkers Lake, Kentucky passed from this life Tuesday, January 26, 2021 at Hospice of Lake Cumberland.
Mattie was born May 3, 1937 to the late Dewey Harold Landrum and Flossie Mae Hatton in Whitco, Kentucky.
She attended Sawyer Missionary Baptist Church and enjoyed camping, loved to cook, shop and going out to eat. Mattie enjoyed spending time in Florida, but most of all cherished time with her family.
Mattie was preceded in death by her parents, Dewey and Flossie Landrum, her husband, Robert G. Betz, brothers, Troy Edison Landrum, Frederick Landrum, Ted Landrum, sisters, Emma Lou Halcomb, Patricia Ann Spradlin, Silva Landrum and Alice Landrum.
She leaves behind to cherish her memory, her son, Robert G. Betz of Toledo, OH, daughter, Sandra K. Paul (Richard) of Fostoria, OH, brother, Merrill Junior Landrum (Lyza) of Isom, KY, 3 grandchildren, Jeremy Bemis (Jamie) Fostoria, OH, Cassie Ward (Shaun) Fostoria, OH, Brandy Betz (Jeff) of Tiffin, OH, 7 great-grandchildren, Drew, Kaleb, Karson, Kobey, Lauren, Logan, Lindy, and great-great grandchildren, Audrey, Georgiana, Karter and John. She will be sadly missed by all that knew and loved her.
Visitation will be held Wednesday, January 27, 2021 at 6:00 P.M. at Sawyer Missionary Baptist Church with a funeral service to be held at 7:00 P.M. with Bro. William Clifford Warman and Bro. Daniel Ridener officiating. Burial will take place at St. Mary Cemetery in Tiffin, Ohio.
Southern Oaks Funeral Home is honored to be entrusted with the arrangements for Mattie Irene Betz.