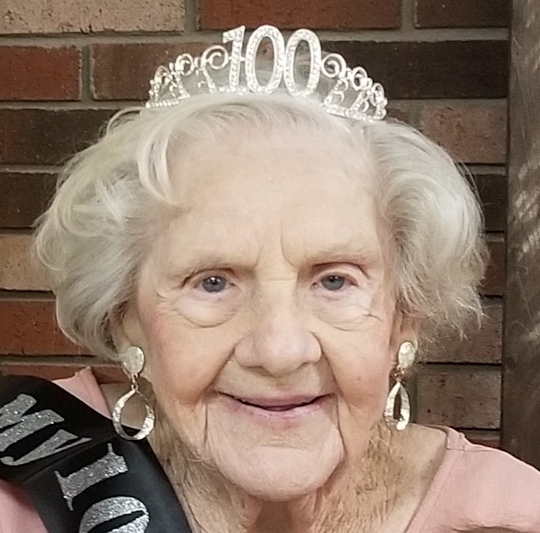 Mildred Toby
Wednesday, February 27, 2019  – 11:00 A.M.
Mildred Toby, from the Grundy community, passed away peacefully Monday morning February 25, 2019, three days before her 100th birthday.
Toby (as she was known by) was born February 28, 1919, the daughter of Robert Estill and Oma Bradley Erp.
She is preceded in death by her parents, daughter Doris Eggers, six brothers and sisters, son-in-law Rex Eggers, and daughter-in-law Eva Toby.
She was married to a farmer, Barnett Toby who also precedes her in death. They were blessed with two children, John and Doris. The family was blessed for many years to have five generations living. Survivors include a son, John Toby, six grandchildren include John Mark (Cathy) Toby, Susan (Russ) Adams, Steven (Kim) Toby, David (Elaine) Eggers, Vickie (Rich) Meadows, and Teresa (Mike) Kirkpatrick. Ms. Toby had nine great-grandchildren and four great-great-grandchildren, with a fifth on the way. She had a host of nieces and nephews that were special to her.
Toby was employed by Palm Beach Company for 40 years as a supervisor. She was a member of Barnesburg Baptist Church. She was also a farmer and worked hard her entire life. She will be remembered by her well-manicured yard and her John Deere tractor. In her 100 years of life, Toby witnessed many events that she would often reminisce to her family. The family gathered to hear the stories and enjoyed their fellowship together and the laughter.
Visitation will be Tuesday, February 26, 2019 from 5:00 p.m. until 8:00 p.m. at Southern Oaks Funeral Home. Celebration of Life Services will be Wednesday, February 27, 2019 at 11:00 a.m. in the Chapel of Southern Oaks Funeral Home with graveside services to follow at Rock Lick Cemetery on Grundy Road.
Southern Oaks Funeral Home is entrusted with the arrangements for Mildred Toby.