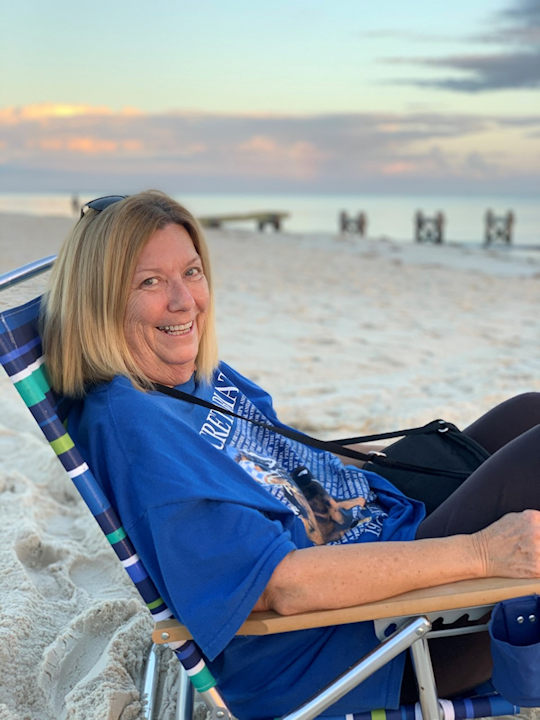 Monica Ellen (Phillippi) Biggerstaff
Saturday, March 19th between 12pm and 2pm.
Monica Ellen (Phillippi) Biggerstaff passed away peacefully surrounded by her family on March 14, 2022. Monica was born in Xenia, Ohio on November 18, 1954. She was the daughter of the late Herschel "Huck" Phillippi, a carpenter, and the late Monetta Owens Phillippi, a nurse.
Monica attended St. Brigid Elementary School and graduated from Xenia High School. She travelled across Kentucky in her early adult life, moving her family to find better opportunities with her husband David, a Kentucky State Police Sergeant. She finally made her forever home off of Harmony Lane in Science Hill, Kentucky. Not even her love of the beach on the Gulf Coast of Mississippi could convince Monica to leave her home near Somerset.
Monica had many jobs in her life including Paralegal, but she most excelled at being a devoted wife and loving mother. In her 43 years as a mother, Monica never missed a basketball game, baseball game, academic meet, pistol competition, graduation, or anything else that was important to her family.
Monica loved to read. She would regularly read several novels in a day, just to return to the library the next day and do it all over again. Monica also loved to garden. She loved all of her flowers and bushes, but it was her peonies, azaleas, and lily of the valleys that she enjoyed the most. Monica truly loved to cook, and more importantly to her, share her cooking with her loved ones. Not only did she want to make them happy by cooking for them, she loved to teach. She immortalized this love by writing a cookbook for each of her children, so that they would be able to continue receiving her lessons and feeling her passion for cooking for the rest of their lives.
Monica had the kindness of a saint, she was hysterically funny, she could recite trivia that seemed impossible to know on the spot, her stories never failed to captivate, and mostly, she was strong. She never once said no to a challenge. She believed in her family every single time they faced any kind of challenge as well. She was a provider first and foremost. Monica embodied each and every quality a loving mother and wife can have.
Monica will continue to support her loved ones through her example, her will, and her spirit.
She is survived by her husband David, of Somerset; her children Sarah (and son-in-law Jackson Ewing and grandchildren Lila Mae and Huck Ewing) of Chapel Hill, North Carolina; Stephanie of Durham, North Carolina; and Ryan of Lexington, Kentucky. She is also survived by her siblings, Antoinette (Toni) Diamond of Somerset; Tim McCann of Ft. Thomas, Kentucky; Chris Phillippi of Ludwigsburg, Germany; and Jackie Phillippi-Wolf of Alpha, Ohio.
She will be missed by everyone who was lucky enough to have met her. Her adventures here have ended, but her spirit carries on.
Respects can be paid at Southern Oaks Funeral Home in Somerset on Saturday, March 19th between 12pm and 2pm.
Southern Oaks Funeral Home is entrusted with the arrangements for Monica Ellen (Phillippi) Biggerstaff.