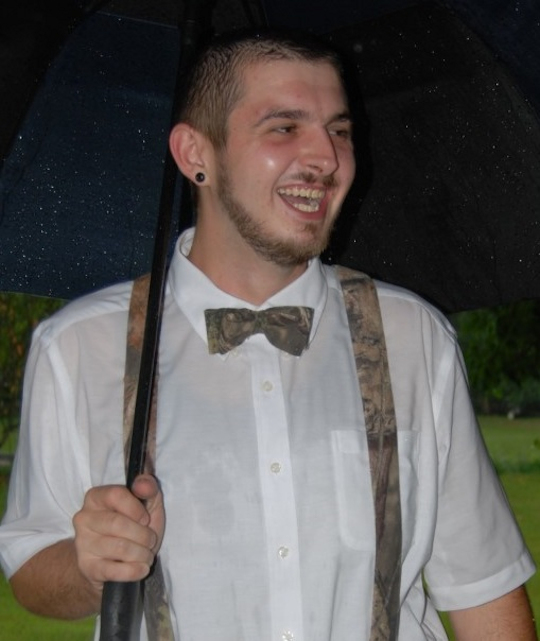 Raylynne Bradley Davis
Tuesday, August 13, 2019 – 11:00 A.M.
Raylynne Bradley Davis, age 24 of Burnside, Kentucky passed from this life on Tuesday, August 6, 2019 at the UK Chandler Medical Center in Lexington.
He was born on November 18, 1994 in Somerset, Kentucky to Earnest Ray Davis Jr. (Sheila) of Louisville and Kim Meece Davis of Burnside.
He married his wife Kayla Suzanne Keeton Davis on September 22, 2018 in McCreary County. He enjoyed four wheeling, racing, fishing, mechanic work, hunting, outdoors, and especially spending time with his family. He was a graduate of Lincoln County High School Class of 2013. Raylynne will be sorely missed by all who knew and loved him.
He was preceded in death by his paternal grandfather; Earnest Ray Davis, Sr., great-grandfather; Cecil Meece, whom he referred to as "Nanny Pa", and great-aunt, Linda Strunk.
He is survived by his loving wife; parents; son, Rylan Wayne Davis; daughter, Jessalynn Marie Davis both of Burnside; brothers, Earnest Davis of Connecticut; Anthony Davis of Somerset; Samuel Davis of Louisville; Elijah Zimmerman of Burnside; maternal grandparents; David and Patricia Meece of Burnside, paternal grandmother; Velda Davis of Bronston, great-grandmothers; Thelma Mae Meece of Somerset and Lillian Mounce of Somerset, mother-in-law; Pam Ritter of Parkers Lake, numerous aunts, uncles, cousins, and adopted family and two amigos Austin Flynn of Burnside; and Jeremy Wayne Troxtle of Bronston.
Visitation will begin at 4:00 p.m. on Monday, August 12, 2019 in the Chapel of Southern Oaks Funeral Home.
Funeral service will be held at 11:00 a.m. on Tuesday, August 13, 2019 in the Chapel of Southern Oaks Funeral Home.
Burial will be in the Quinton Cemetery.
Southern Oaks Funeral Home is entrusted with the arrangements for Raylynne Bradley Davis.