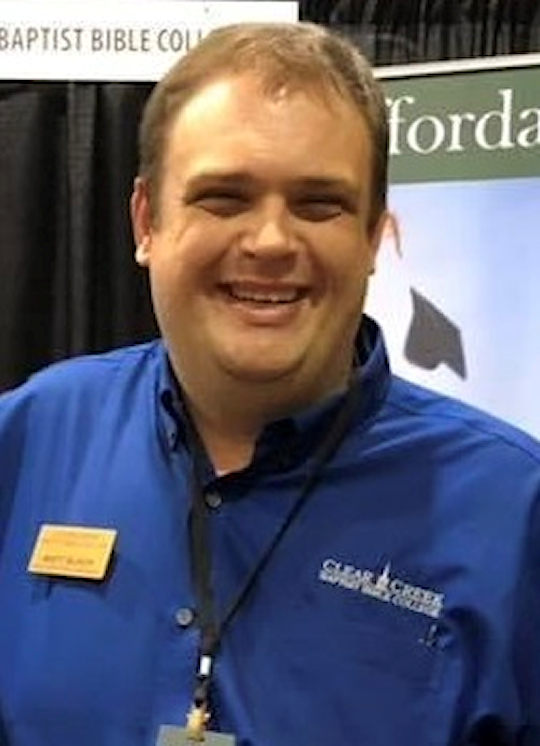 Rev. Matthew Ryan Black
Wednesday, March 23, 2022 at 11:00 A.M.
Rev. Matthew Ryan Black, age 38 of Pineville, Kentucky, passed from this life into his heavenly home on Friday, March 18, 2022 at Pineville Community Health Center.
He was born on September 16, 1983 in Somerset, Kentucky, the son of Donald and Patty Love Black.
He was the Dean of Institutional Advancement at Clear Creek Baptist Bible College. He attended First Baptist Church in Barbourville and was a former Pastor of Immanuel Baptist church in Wilmington, Ohio from 2012-2018. He was a graduate of Southwestern Class of 2001 and a graduate of Clear Creek Baptist Bible College class of 2012. He had achieved his Master's Degree in Christian Studies from the University of the Cumberlands in 2018.
He was preceded in death by grandparents; Leland Black, Ruth Love and Agnes Whitis.
He is survived by his parents, Donald and Patty Black of Somerset; his wife, Ruth Kibler Black of Pineville, whom he married on January 4, 2014 in Wilmington, OH; one son, James Matthew Black; one brother, Jason Black of Bronston; grandmother, Bernice Black of Somerset; father-in-law and mother-in-law, Patrick and Joyce Kibler of Fairborn, OH; several brothers-in-law and sisters-in-law; and a host of beloved friends at High Street Baptist Church, and many other friends who served with him in ministry at Clear Creek Baptist Bible College and elsewhere.
Visitation will be from 5:00 p.m. until 9:00 p.m. on Tuesday, March 22, 2022 at Southern Oaks Funeral Home. Funeral Services will be held 11:00 a.m. on Wednesday, March 23, 2022 in the Chapel of Southern Oaks Funeral Home with Bro. Ed Amundson and Dr. Donnie Fox officiating. Burial will be in Southern Oaks Cemetery. In lieu of flowers the family requests that donations be made to the "Moore Hall Project" Clear Creek Baptist Bible College, 300 Clear Creek Rd., Pineville, KY 40977. (Attention Moore Hall Project)
Southern Oaks Funeral Home is entrusted with the arrangements for Rev. Matthew Ryan Black.