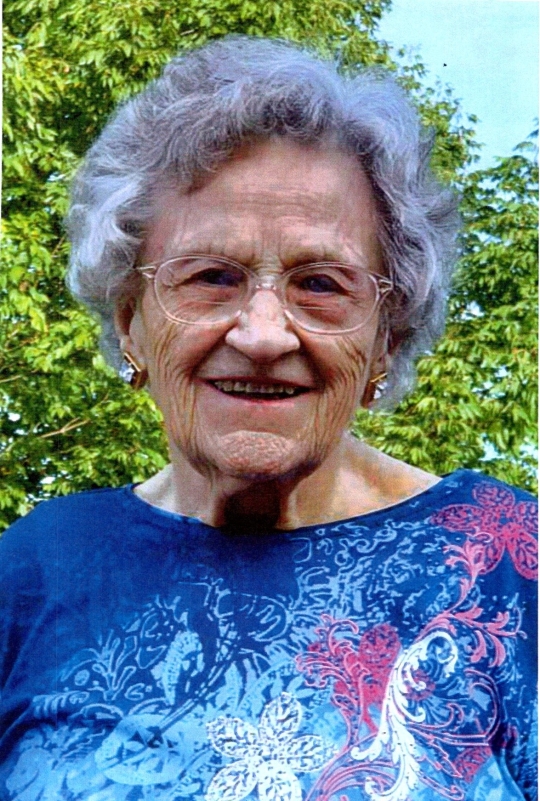 Ruth Viola Schuldheisz
Sunday, October 20th, 2020 – 2:00 P.M.
Ruth Viola Schuldheisz, daughter of August and Maria (Kalmbach) Hehr, was born on the family farm East of Kulm on October 12, 1927. She attended two years of grade school at rural Pamona View School and then moved to Kulm where she finished her schooling, graduating from Kulm High School in 1945 as Salutatorian of her class. During school, she worked her first job as a reporter for the Kulm Messenger and on weekends worked at the Salzer Lumber Company. Upon graduation, she was employed at the Kulm State Bank until her marriage to Harold Schuldheisz on July 24th, 1946 . To this union four children were born: Keith (Doc), Buck, Randy and Sandra. Ruth was an active member of Zion Lutheran Church in Kulm where she taught Sunday school and Bible school for many years. Harold and Ruth owned and operated the Lazy S Ranch for their 58 years of marriage. Her life as a rancher's wife including feeding countless work crews and neighbors but also feeding bottle lambs and calves. She was famous for her hospitality and always had the coffee pot on with fresh pastries to serve. Ruth moved to Somerset, KY in 2010 to live with her daughter, Sandy and family, where she became an active member of Redeemer Lutheran Church. She truly loved people, travel, jigsaw puzzles, crossword puzzles, plants, animals and her family.
Ruth was preceded in death by her parents, her husband, Harold, her 9 siblings, her sons Buck and Randy. She leaves to mourn her son Keith (Doc) and his children Christine and Skeez along with her daughter Sandy (Steve Gibbs) and their children Timothy and Lily Gibbs, her granddaughter Emma Schuldheisz, two great grandchildren and one great great granddaughter, her caregiver Kayla Dobbs, many nieces and nephews, along with a host of special friends from Redeemer Lutheran Church and the community.
Ruth will always be remembered as a devout Christian woman with a kind, humble and gentle soul, always with a positive attitude and a love of people. The world was a better place with Ruth in it, but heaven is far far sweeter with her presence there.
Funeral arrangements are entrusted to Southern Oaks Funeral Home. Visitation will be Monday October 19th from 5-8pm with funeral services Tuesday at 2pm at Redeemer Lutheran Church. Funeral processional back to the funeral home will take place after the funeral as burial will be at St. Paul Lutheran Cemetery in Kulm, North Dakota at a later date