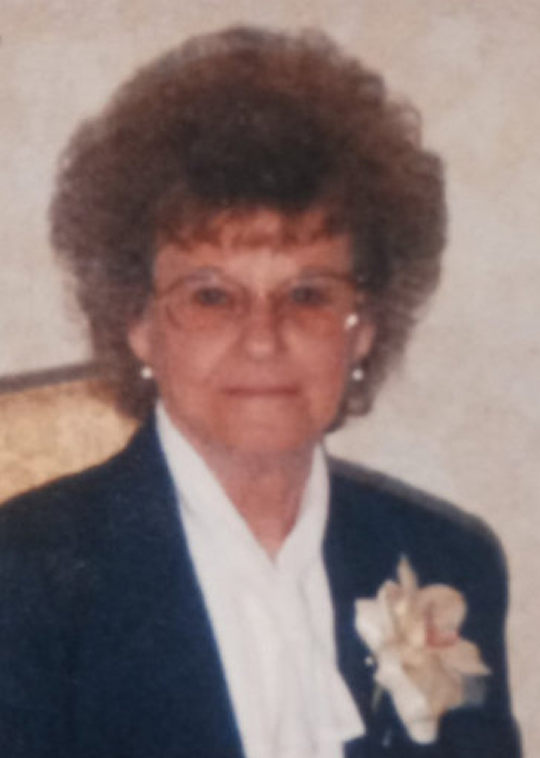 Shirley Jean Huff
Thursday, October 20, 2022 at 2:00 P.M.
Shirley Jean Huff, age 86, of Burnside, Kentucky passed from this life Saturday, October 15, 2022 at her home.
Shirley was born on August 26, 1936 in Quinton, Kentucky to the late Lewis and Zelma Retherford Flynn.
She retired from Pulaski County School Systems of 20 years and later worked at Walmart Bakery for 7 years. She was a member of First Baptist Church of Burnside of 78 years and was President of her Sunday School Class. Mrs. Huff loved the Lord, going to church, spending time with her family, and cooking.
She was married to the late Curtis Huff of Burnside, Ky whom she married on July 28, 1953 in Trenton, Georgia; one son, Roger (Becky) Huff of Burnside, Ky; two daughters, Judy Smith of Burnside, Ky and Terry (Bobby) Bruce of Somerset, Ky; one special niece, Emma Branum of Burnside, Ky; six grandchildren, Shannon Smith, Shad (Jessica) Smith, Kyle Sadler (Stacey), Taryn (David) Seward, Amanda (Josh) Dennis, Angela (Chris) Randall; great-grandchildren, Cheyanne (Anthony) Smith, Gavin Smith, Paris Smith, Kriscelyn Randall, Adalynn Sadler, Avery Dennis, Jace Dennis, Landry Seward, Kennedy Seward, Leighton Seward, Kash Randall, and Kannon Randall; great-great granddaughter, Lorelei Delaney; step great grandchildren, Kyndal Butcher, Kaelyn Butcher, and Kobe Butcher; two special nephews, Lewis (Jeffa) Turner and Jimmy (Wanda) Flynn. Along with two special friends, Tammy Floyd and Barbara Wilson and a host of friends and family.
Four brothers deceased; Carrol Flynn, Arvin Flynn, Herman Flynn, Boyd Flynn and three sisters deceased; Lucille Young, Irene Flynn, and June Turner; along with a great granddaughter, Kamden Jo Randall.
Visitation will be held on Wednesday, October 19, 2022 at 6 P.M. in the Chapel of the Southern Oaks Funeral Home. Funeral service will be held on Thursday, October 20, 2022 at 2 P.M. at the funeral home with Bro. Richard Christian and Bro. Jordan Burks officiating. Burial will follow in Burnside Cemetery. Kyle Sadler, Landry Seward, David Seward, Gavin Smith, Bobby Bruce, David Hall, and Jason Roberts will be serving as pallbearers. Shad Smith, Chris Randall, Kobe Butcher and Josh Dennis will be serving as honorary pallbearers.
The Huff family would like to thank Hospice of Lake Cumberland for their exceptional       care, especially nurses, Debbie Hardwick and Mary Troxtle.
Southern Oaks Funeral Home is entrusted with the arrangements for Shirley Jean Huff.