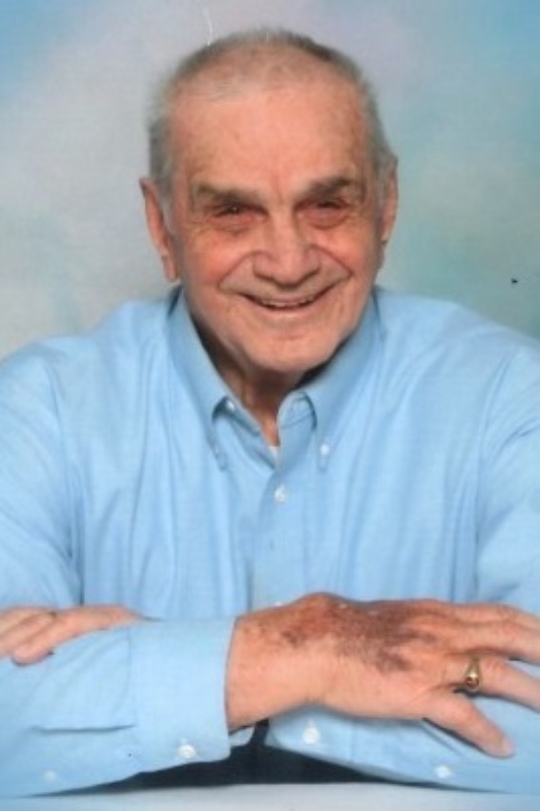 Tellus Eugene "Pappy" Slagle
Saturday October 24, 2020 at 10:00 A.M.
Tellus Eugene "Pappy" Slagle, age 97 of Bronston, Kentucky, peacefully left his earthly home on Tuesday, October 20, 2020 surrounded by family. Pappy was born in Monticello, Kentucky on March 4, 1923. The son of Clay and Lucy Neely Slagle. He was a truck driver for 35 years. He was a proud Navy Veteran of WWII and a 50 plus year member of the Burnside Masonic Lodge #634. He was a member of the Bronston Baptist Church. He loved gospel and old country music, dancing, playing cards, and laughing.
He was preceded in death by his first wife Rosa Lee Slagle who passed away on May 21, 1995; his parents, Clay and Lucy Slagle; his sons Donald Ray Slagle and David Gene Slagle; a grandson Scott Foster; great grandchildren Emily Blevins, Robbie Slagle and Noah Foster. Also, he is preceded in death by his sister, Aillene Davenport and a brother, Howard Slagle.
He is survived by his wife Barbara Slagle whom he married on August 19, 2006. He is survived by one daughter, Dee (Gary) Foster and a brother, Clifford (Lorene) Slagle. He is also survived by seven grandchildren, fourteen great grandchildren, and six great, great grandchildren. There are two step-children, John (Stephanie) Bean and Robert (Tracey) Bean and four step grandchildren.
Visitation will be Friday October 23, 2020 from 6:00 p.m. until 9:00 p.m. at Bronston Baptist Church. Masonic Services will be at 7:00 p.m. The Celebration of Life Service will be held on Saturday October 24, 2020 at 10:00 a.m. at Bronston Baptist Church with Bro. Tony Hall officiating. Due to COVID-19 regulations, social distancing and masks will be required.
Burial will be in the Bronston Cemetery. Pallbearers will be Doug Slagle, Jerry Slagle, Bud Gibson, Michael Cook, John Bean, Darrell Blevins, Michael Ryan Green, and Justin Howard.
The family requests that in lieu of flowers that memorial gifts be given to Hospice of Lake Cumberland or Bronston Baptist Youth programs.
Southern Oaks Funeral Home is entrusted with the arrangements for Tellus Eugene "Pappy" Slagle.