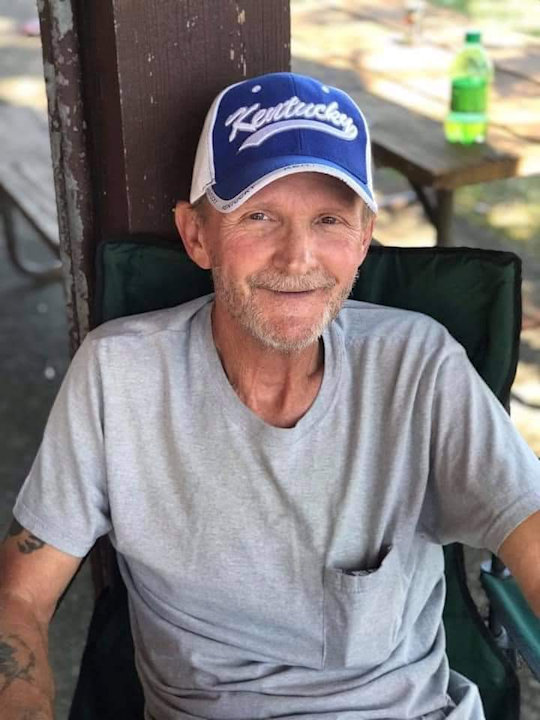 Thomas "Tom" Allen Carrender
Thursday, September 21, 2023 at 12:00 P.M.
Thomas "Tom" Allen Carrender, age 64, departed from this life to his eternal home on September 18, 2023. He was born April 4, 1959 to Richard Carrender and Rilda Daniel Carrender.
He was a tree trimmer by trade with his father and brother Joddy until an accident in 1990 which prevented him from being able to continue.
He was preceded in death by his parents, two brothers, Bertie Hughes and Joddy Carrender, three sisters  Doraetta Chriswell, Lucy Carrender and Judy Gibson. He leaves behind to cherish his memory his son Jeremy (Kelsie Presnell) Carrender of Bronston, Ky; his daughters Amy (Chris) Smith of Nancy, Ky, Tiffany (Roger) Roy of Somerset, Ky. A brother Thurman Carrender of Bronston, Ky. A sister Norma (Gary) Hardwick of Bronston, Ky. 10 grandchildren: Austin, Abagail, Madison, Paislee, Kelsey, Hannah, Savannah, Peyton and Logan. One great grandson Jakob. Longtime partner Kathy Tucker. As well as a host of nephews, nieces, cousins and friends.
Tom was not a rich man by worldly means but he was a millionaire by the measure of love that his children, grandchildren, family and friends had for him. Tom loved to play the guitar and sing from the time he was a little boy big enough to hold a guitar. He especially loved to sing songs to praise the Lord. I can hear Maw coming across the river of Jordan clapping her hands and shouting my baby boy is home. What a reunion that will be when he reaches heaven's gates to see his mother, father, sisters, Doraetta, Lucy, Judy, brothers Joddy and Bertie waiting with open arms to welcome him home. I can hear them all saying our choir is together again.
This is not goodbye so keep the line open and I will be sending you messages until we are together again in heaven. "I'm gonna get off here. Y'all have a good one tonight and a better one tomorrow catch ya, catch ya Cruiser."
Visitation will be held on Wednesday, September 20, 2023 from 5-8pm in the Chapel of the Southern Oaks Funeral Home. Funeral services will be held on Thursday, September 21, 2023 at 12pm with Bro. Tim Ogle officiating. Burial will follow in Bronston Cemetery. Southern Oaks Funeral Home is honored to be in charge of the arrangements for Thomas "Tom" Allen Carrender.