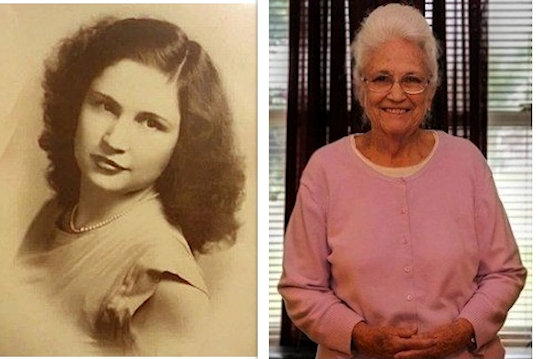 Victoria Hope Jenks
Saturday, April 2, 2022 at 1:00 P.M.
Victoria Hope Jenks, 94, of Nancy, departed this life peacefully at her residence on March 29, 2022.
She was born in Wyatt, WV, on November 6, 1927, a daughter of the late Argel and Iva Lane Moore.
Mrs. Jenks is survived by her 3 children, Sharon Baker and husband John of Nancy, KY, Lisa King of Somerset, KY, Susanne Garland and husband Mark of Nancy, KY. Along with her beloved grandchildren, Teffany Jenks, Shawn Jenks, Cynthia Jenks, Ashley Miller, Anthony Garland, Alicia Garland, SPC Alexander Owen King.
Great-grandchildren, Sharae Jenks, Michael Swiger, Elizabeth Gibson, Ashton Jenks, Deven Jenks, and Beckett Mark Garland
Great Great Grandkids, Isaiah Drury, Riverlee Cantrell Murray, Daisy Gibson, and Amara Jenks
Also surviving are three sisters, Mary Lou Spagnuolo of Tampa, FL, Patti McCauley of Ravenswood, WV, and Debbie Goff and husband Jimmy of Enterprise, WV.
She was preceded in death by her husband Hadley A. Jenks in 1989, two sons, Hadley Aaron Jenks and Gary Ray Jenks, two sisters, Phyllis Snider, Rose Jenks and two brothers, James Moore and Joseph Moore.
She was a member of First Apostolic Church, Somerset, KY.
She was a very loving and giving Mother and Grandmother.  When there was a need in her family, she went above and beyond to take care of it. She was a homemaker who was a wonderful cook, loved to read and garden.
Family and friends may attend a graveside service at the Science Hill Cemetery, Saturday, April 2, 2022 at 1p.m. with Pastor Joe Cox officiating.
In lieu of flowers, the family requests donations to be made to the Alzheimer Association.
Southern Oaks Funeral Home is entrusted with the arrangements for Victoria Hope Jenks.